In the aerospace industry, certification required by clients in accordance wih industry standards such as the DIN EN 9100 or the regulatory approval as a corresponding aviation company represents a significant barrier to market entry. For market access and thus the success of a company, certification or regulatory approval of the company is a basic prerequisite. In order to be approved by aviation authorities such as EASA or to receive a certificate from accredited certification companies such as TÜV, DEKRA, DGQ, etc., specific requirements for the operational processes and the structure of an organisation must be met. Obtaining the required certificate or regulatory approval is often associated with an allocation of significant resources.

Our experts are experienced in managing and supporting certification or approval processes. We build your Quality Management System, shape your Design Assurance System audit proof and write your processes application-oriented. We know the critical factors for the certification and approval of your organisation and are happy to guide you on your way to becoming an approved aerospace company.
We help our clients develop the knowledge needed to apply and implement applicable standards and laws. Together, we design internal company processes in a way that meets requirements and is suitable for practical use.
Get in Touch for a non-binding enquiry
Call us now +49 8856 903 45 30
---
---
Quality Management
Whether your organisation develops, produces or maintains products for the aerospace industry, the ISO 9001 "Quality Management Systems" or the adapted aerospace version EN 9100 "Aerospace Quality Management" are the minimal requirements needed to operate as a supplier in the aerospace market.
To support your organisation in the certification according to ISO 9001 and EN 9100 we provide the following services:
Our Quality Management Training Courses are listed on our Training page.
GAP Analysis regarding ISO 9001 and EN 9100 Certification
External Audits of ISO 9001/EN 9100 Quality Management Systems
Creation and Completion of Compliant Quality Management Processes
Establishment of Risk Management Systems
Establishment of Systems for Supplier Selection and Control
Preparation of the ISO/EN Audit for Certification
---
Regulatory Approvals
The design, production and maintenance of aeronautical products is strictly regulated by international agencies such as the FAA (Federal Aviation Administration) or the EASA (European Union Aviation Safety Agency). Similar regulations apply to suppliers of military aircraft components. In Germany the relevant civil regulatory authorities are the EASA and the LBA (Luftfahrt-Bundesamt). For military aviation the responsible authoritites are the LufABw (Luftfahrtsamt der Bundeswehr) and the BAAINBw (Bundesamt für Ausrüstung, Informationstechnik und Nutzung der Bundeswehr). These ensure the implementation and compliance with civil laws and regulations such as EASA Part 21 as well as the military standards DEMAR 21/ DEMAR 145.

EASA Part 21J - Approval as Design Organisation
EASA Part 21G - Approval as Production Organisation
EASA Part 145 - Approval as Maintenance Organisation
DEMAR 21 - Approval for Design and Production Organisation
DEMAR 145 - Approval for Maintenance Organisations
---
Processes Management
Creating compliant, efficient and at the same time practical business processes requires know-how and experience. Our know-how accelerates the creation phase, helps to avoid common mistakes and reduces the need for resources. Together with you, our experts create processes or complete process management systems for your organisation.
Design Organisation Handbook


Production Organisation Handbook


Maintenance Organisation Handbook


Quality Management Handbook


Product Development Process


Configuration Management Process


Requirements Management Standard


Production Process


Acceptance/Inspection Process


After Sales and Customer Service Process

Project & Risk Management Process


Supply Chain Management Process

Human Resources Process


Safety Process


Quality Assurance Process


Management Review Process

Control of Nonconforming Outputs Process


Calibration of Testing Measuring Equipment Process


Handling, Storage and Packing Process

---
Process Management Beyond Documents – PMBD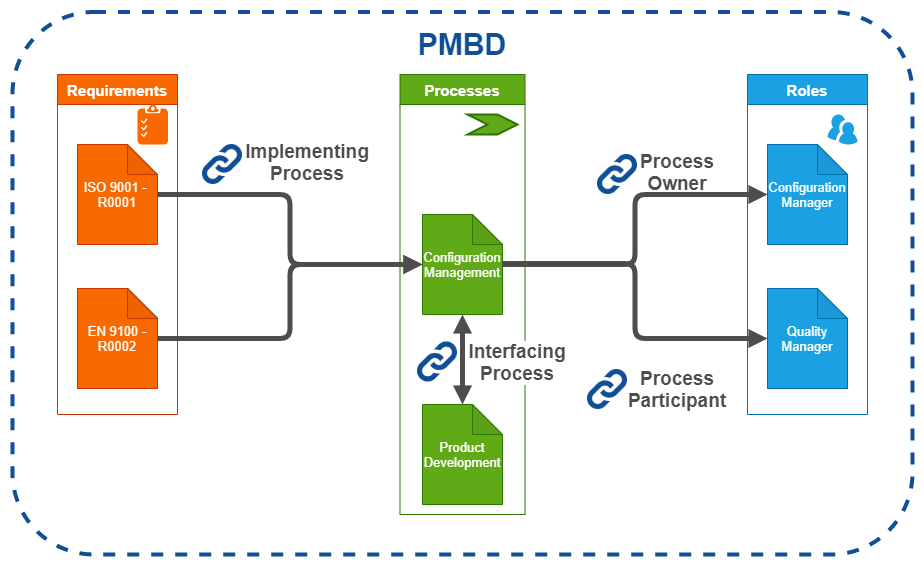 Process Management Beyond Documents, PMBD for short, is a wiki-based process management tool. PMBD enables information on an organisation's processes to be made available centrally and barrier-free via a browser. The integrated requirements and compliance management enables efficient auditing of processes. The linking of relevant information, such as requirements and processes, enhances the usability of PMBD.